Thirsty? Reasons to Drink More Tea!
Well Helloooooo fellow tea drinkers! Hope this blog post finds everyone happy and healthy. Lots of goings on here at Sterling Tea. We've got new teas, the State Fair, and a ton of new customers.
Let's start with the new teas shall we?
The new teas currently "on tap" are:
Harmony - Find your zen with this tasty green tea boasting a blueberry and lemon medley.
Ruby Sipper - There's no place like home with this relaxing herbal tea. Perfect for curling up with a good book...or a good movie!
On the Mend - Here's a wellness herbal blend that will sooth your stomach and help restore that vim and verve!
Apple Pie - This organic black tea tastes just like homemade...oh wait, it is! Just like apple pie but without the guilt! :) It's even tasty with a dollop of whip cream...but I digress.
Our Limited Edition Seasonal Teas are soon to hit the "shelves" so to speak so be on the lookout! If you forgot what those are...I'll just mention Eskimo Kiss (think Mounds bar) YUMOLA! I don't even care if that isn't a word. It is just that good. :::sigh:::
Come on Down to the NEW GoTexan building at the Texas State Fair. We will be there again this year and we are so excited to introduce our holiday trio, Texas trio and our popular pyramid tea bag tins! So come see us at the formerly known as "Food and Fiber Pavilion". We'd love to see ya!
Finally, I wanted to share an article that I came across in Today's Healthy Living online Magazine and because it was so good I felt it worth reposting and linking. Read the article and Drink More Tea!™
How a daily cup of tea may improve your health
Jun. 24, 2016 at 9:16 AM
Linda Carroll
TODAY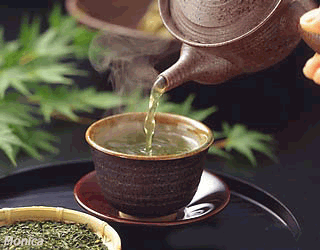 No matter what the season, tea can be a tasty beverage since it can be served iced or hot.
But its benefits go far beyond refreshment. There is plenty of research showing that drinking tea can actually improve your health.
At the very least, it's a flavorful way of getting enough fluid into your body each day. On top of that, studies have shown teas can help protect your teeth and your heart, as well as possibly even helping to stave off cancer.
Which type of tea you drink can make a difference. All non-herbal teas are made from the leaves of the Camellia sinensis plant. The amount of time the leaves are processed determines whether you end up with a green, black or oolong tea.
The green teas are the least processed and tend to have the highest amounts of polyphenols, and the only type that contain the polyphenol, catechin, which is why many studies have been done using only green teas. Certain herbal teas are known for their medicinal values, including soothing the digestive system.
Here are the top 10 health benefits of tea:
1. Tea contains antioxidants
Antioxidants work to prevent the body's version of rust and thus help to keep us young and protect us from damage from pollution.
2. Tea has less caffeine than coffee
Herbal blends have no caffeine, while traditional teas have less than 50 percent of what typically is found in coffee. That means you can consume it without those pesky effects on your nervous system, says Leslie Bonci, nutritionist and owner of Active Eating Advice.
3. Tea may reduce risk of heart attack & stroke
"There's a lot of literature out there on tea and heart health," says Anna Ardine, clinical nutrition manager at Magee-Womens Hospital of the University of Pittsburgh Medical Center. "This is a health effect for which there is the strongest evidence."
In fact, a study published earlier this year that combined data from a host of earlier reports found a nearly 20 percent reduction in the risk of heart attack and a 35 percent reduced risk of stroke among those who drank one to three cups of green tea a day. Those who drank four or more cups of green tea daily had a 32 percent reduction in the risk of having a heart attack and lower levels of LDL cholesterol.
4. Tea may help with weight loss
Research on this isn't as strong, Ardine says, adding that studies that have shown an effect have depended on consumption of large amounts of tea, often in pill form.
5. Tea may help protect your bones
Data from recent animal studies has shown that green tea may prevent bone loss.
6. Tea may keep your smile bright
"Japanese researchers have found that tea can decrease tooth loss," Ardine says. "It changes the pH in your mouth when you drink it and that may be what prevents cavities." Beyond that, tea, unlike many other beverages does not appear to erode tooth enamel, Bonci says.
7. Tea may boost the immune system
Studies have shown tea can tune up immune cells so they reach their targets quicker.
8. Tea may help battle cancer
Studies on this are currently mixed, which means more research is needed, Bonci says. But, in the meantime, "if you've got a strong family history of cancer and you want to do anything you can, you might increase your tea consumption," she adds.
9. Herbal tea may soothe the digestive system
"Herbal teas, in particular chamomile, can be good for people with irritable bowel syndrome because it is an antispasmodic," Bonci says. "And ginger teas can calm nausea."
10. Tea — unadulterated, that is — is calorie free
"It's a great no-calorie alternative to water," Bonci says. "It provides so many options for flavor and versatility. You can have it hot or cold. And you don't have to put anything in it, though you might want to add a cinnamon stick or some ginger. That means you're able to hydrate with something other than water alone."
Be well my friends!
Ang
#sterlingtea #stressrelief #soothe #tea #anxietyrelief #healthy #statefair #eskimo #kiss #gotexan #teasachets #Today